BATHROOM RENOVATION SYDNEY NORTH SHORE
the  bathroom renovation sydney north shore experts
Looking for a bathroom renovation Sydney North Shore service?  Do not be fooled by the name.
Actually, our services go well beyond just the Eastern Suburbs of Sydney! In fact, we love renovating bathrooms in the North Shore of Sydney. Taking the time to head north allows us to experience the varied architecture in our beloved Sydney. This us certainly great for our future renovation projects.
Having worked in various homes throughout the area, we now have a clear idea of what type of bathroom designs are most common here. Certain layouts are common in properties. It is always good to see the different ways we can incorporate our unique bathroom designs and products.
In fact, we have completed so many bathroom renovation projects in the North Shore, we are well equipped to provide the best service. Additionally, we are more familiar with the local tradespeople and suppliers, allowing us to provide exceptional quality services at affordable prices.
We simply love to design new bathroom renovation projects in the North Shore. There is a uniqueness to the architecture of the properties, allowing us to flex our creative muscles. The more varied properties we work on, the better our service becomes, giving us the insight into the best designs to implement.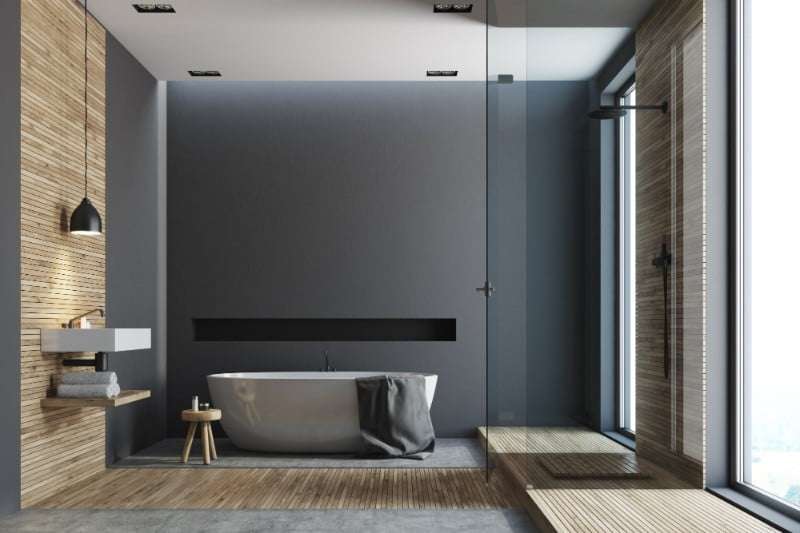 Bespoke Bathroom Renovation in North Shore Sydney
We offer bespoke bathroom renovations for commercial and residential properties in Sydney North Shore. Properties in this area are simply breath-taking, exuding class and elegance like nowhere else. So, getting the opportunity to design and install a new bathroom is something we take seriously.
Indeed you can expect the highest quality designs. Moreover, we work alongside you at every step of the project to ensure your goals are met. Whether you want to maximise your floor space in a smaller bathroom or renovate an older bathroom into something more modern, we have got you covered.
We serve properties of every shape and size. Furthermore, our goal is to always ensure you get exactly what you want from your new bathroom. For example, we always include you in the initial process to be clear exactly what you want included in the design.
extensive experience
Using our extensive experience, we make some suggestions based on your desires and requirements, including possible fixtures and products to include. This lets us create an accurate (and free) quote for your renovation project.
Once you are satisfied, we will start the project with a 3D model of the bathroom design. You can view how it looks, see if there are any changes you want, and then decide on the final design.
In addition, we have developed close working relationships with suppliers and tradespeople throughout the North Shore and wider Sydney. This allows us to find the perfect materials for a suitable price. You can have as much or as little input when choosing the products – take a backseat or be fully involved!
Our installers are friendly and courteous, ensuring minimal disruption to your home or business. Expect a fast turnaround, as we always strive to complete the project in a timely yet efficient matter.
Again, you are fully updated every step of the project, and we leave the bathroom in perfect condition for you to enjoy straightaway.
Our Bathroom Renovation Services in the North Shore
Small Bathroom Renovation Sydney North Shore
Do not limit yourself to a low quality bathroom just because you are short on space. Our small bathroom renovation service maximises the space of compact bathrooms, allowing you to make the most of the space that you have. Our designs focus on utilising the available space, using products that are perfect for those bathrooms with less floor place. Expect an open, airy design that makes the bathroom feel significantly larger.
Looking for a new modern bathroom in your North Shore home? Then look no further than our modern bathroom renovation service!
We completely redesign the aesthetic of your current bathroom space, giving it a modern style that is guaranteed to impress. A modern bathroom redesign is an excellent investment for your property, adding value that few other renovations can achieve.
There is an expansive range of modern styles and products to choose for your bathroom renovation. Each modern renovation is tailor-made to meet the requirements of your home, making your dream bathroom a reality.
Business owners in the North Shore can breathe new life into their bathrooms through one of our commercial bathroom renovation services. Perfect for everything from hospitality to office spaces, a commercial bathroom redesign is guaranteed to impress both customers and employees.
Suburbs we service in Sydney North Shore